Prominend
---
Liquid milk for intensive calf rearing
---
Type: Liquid

---
30-day money-back guarantee
Free Shipping in U.S.
Buy now, get in 2 days
Ad libitum milk feeding with liquid UHT-milk 
Calf rearing in modern dairy husbandry is a very important part of the optimization of dairy farmers' business. Here the fundament of the future performance is made. Strong and healthy calves grow to solid and high-yielding dairy cows with high persistency.
The PROMINEND concept is based on an innovative and unique, liquid delivered UHT-milk with a long conservation, made from high-quality dairy ingredients that ensures a perfect taste and digestion. 
In combination with the ad libitum feeding scheme, PROMINEND ensures vital calves with higher growth rates with only very little work to do. Research shows calves with higher pre-weaning growth rates become earlier inseminated heifers and higher-yielding and more sustainable cows. This specialized approach of calf rearing results in a better economic performance of the total farm. 
                                                                                                                                                                      
Benefits PROMINEND
Higher growth rates

More vital calves

Less labour that is more flexible to plan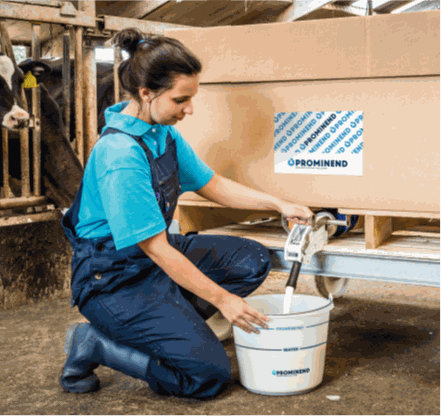 More milk for the calves with less labour for farmer 
For an optimal growth rate of the calves, they should be able to drink milk at every time so they drink only small portions at once. In total calves consume more milk per dag, but in a very safe way which makes them better growing. 
Due to its unique composition PROMINEND is very easily dissolved in cold water without stirring. It could be fed to the calves ad libitum via a suckling bucket.
The easy-to-use bag-in-box packaging ensures a stable milk with a long shelf life. It can be tappen very easily from the box. 
Cold water, adding PROMINEND and ready!
Your step towards the calf rearing of the future?